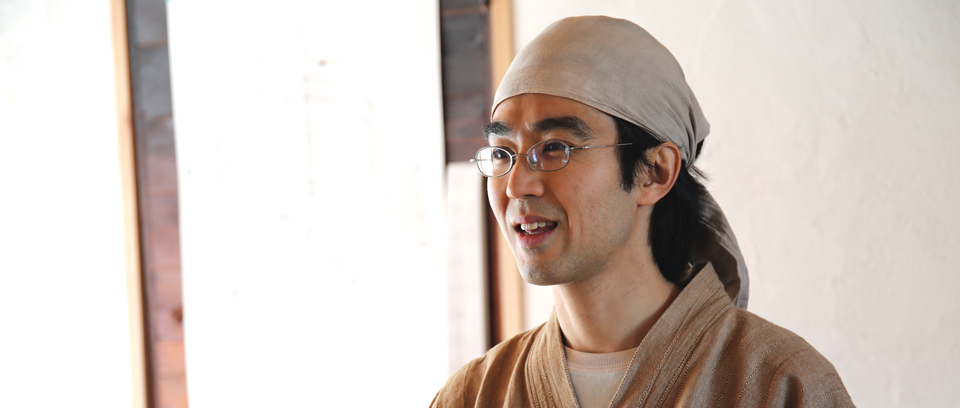 PROFILE
Shunsuke Yoshizawa | 吉澤俊輔
President, Sakuranosakutokoro
Shimamaki Village, Hokkaido Japan.

Born in 1978 in Shimamaki Village, Hokkaido. From his childhood, he grew up in the rich nature of Shimamaki, surrounded by the sea and mountains. Influenced by his father, who runs the Shimamaki Youth Hostel, he works day and night as a guide for visitors to Shimamaki Village. He renovated the adjacent "Haru no Ie," which aims to promote sustainable living, by himself. He is also involved in "さくらの咲くところ (Where Cherry Blossoms Bloom)," a project that proposes a way of life in harmony with nature. He has also started to cultivate rice paddies and fields naturally, and has achieved an extremely high rate of self-sufficiency, which has earned him the nickname "Shimamaki perfectionist" or "hermit.
Introductory chapter
The theme of the previous episode of the relay interview was "Embracing Diversity and Connecting to Fermentation and Circulation.
After a profound discussion of the world of microorganisms, the relay baton now passes from Niseko to Shimamaki Village's Shunsuke Yoshizawa.
We covered a wide range of aspects of his way of life, which has been praised by all the previous relay reporters.
February 27, 2017- Interview
Producer: Takeshi Hotta
[smartslider3 slider=15]
Go where Shunsuke Yoshizawa is.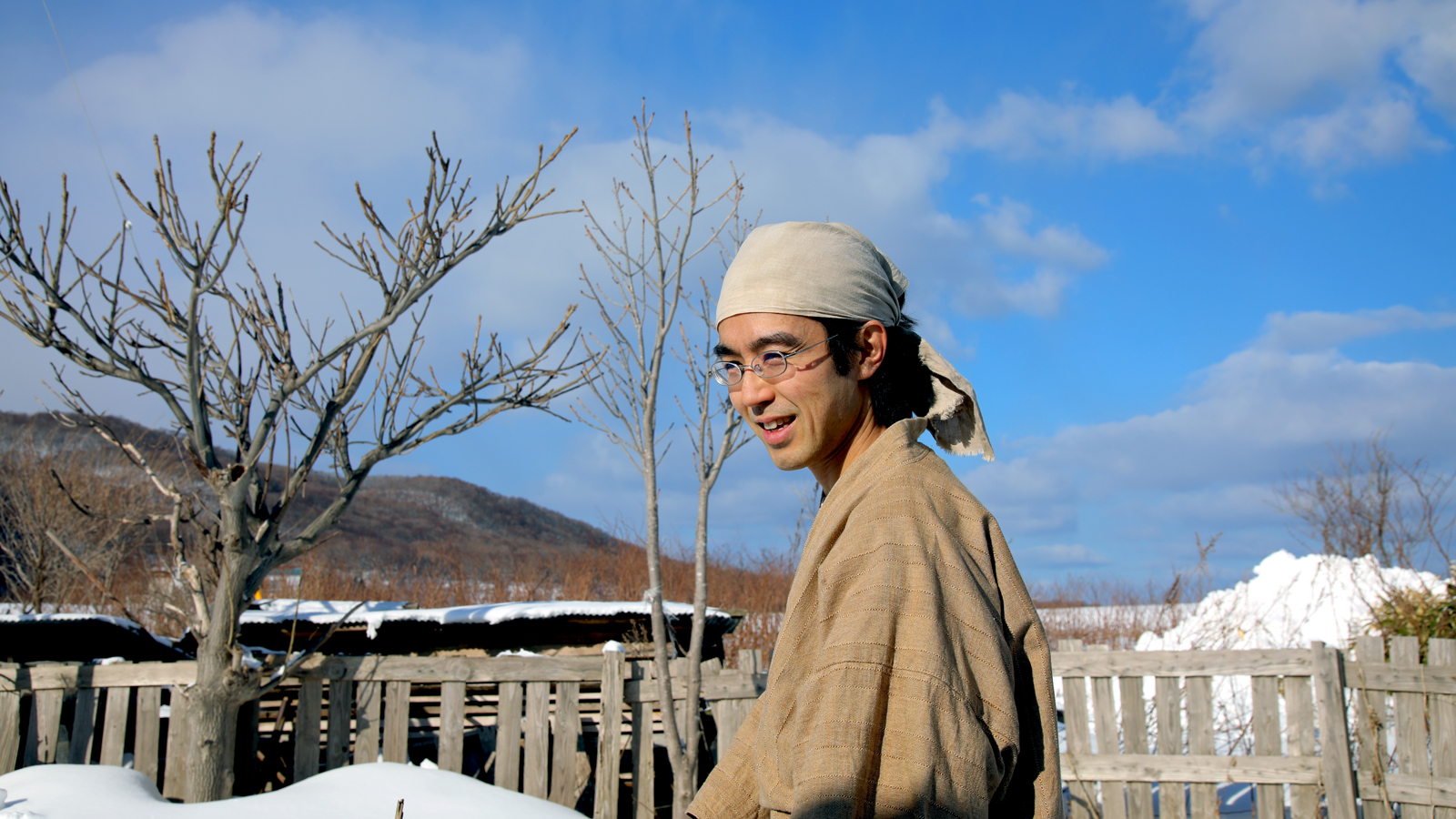 The person who introduced Shunsuke Yoshizawa to the Biastra relay interview was Yoshihiro Hattori in episode 5.
Hattori: "I'm going to hold a workshop on koji mold in Shimamaki village at Shunsuke's house. I'll tell you about the relay interview and introduce it there. I think it will be a very good story"
Eventually, at the end of February 2017. I visited Shimamaki Youth Hostel and had the pleasure of meeting Shunsuke Yoshizawa for the first time at the "Haru no Ie" adjacent to the hostel.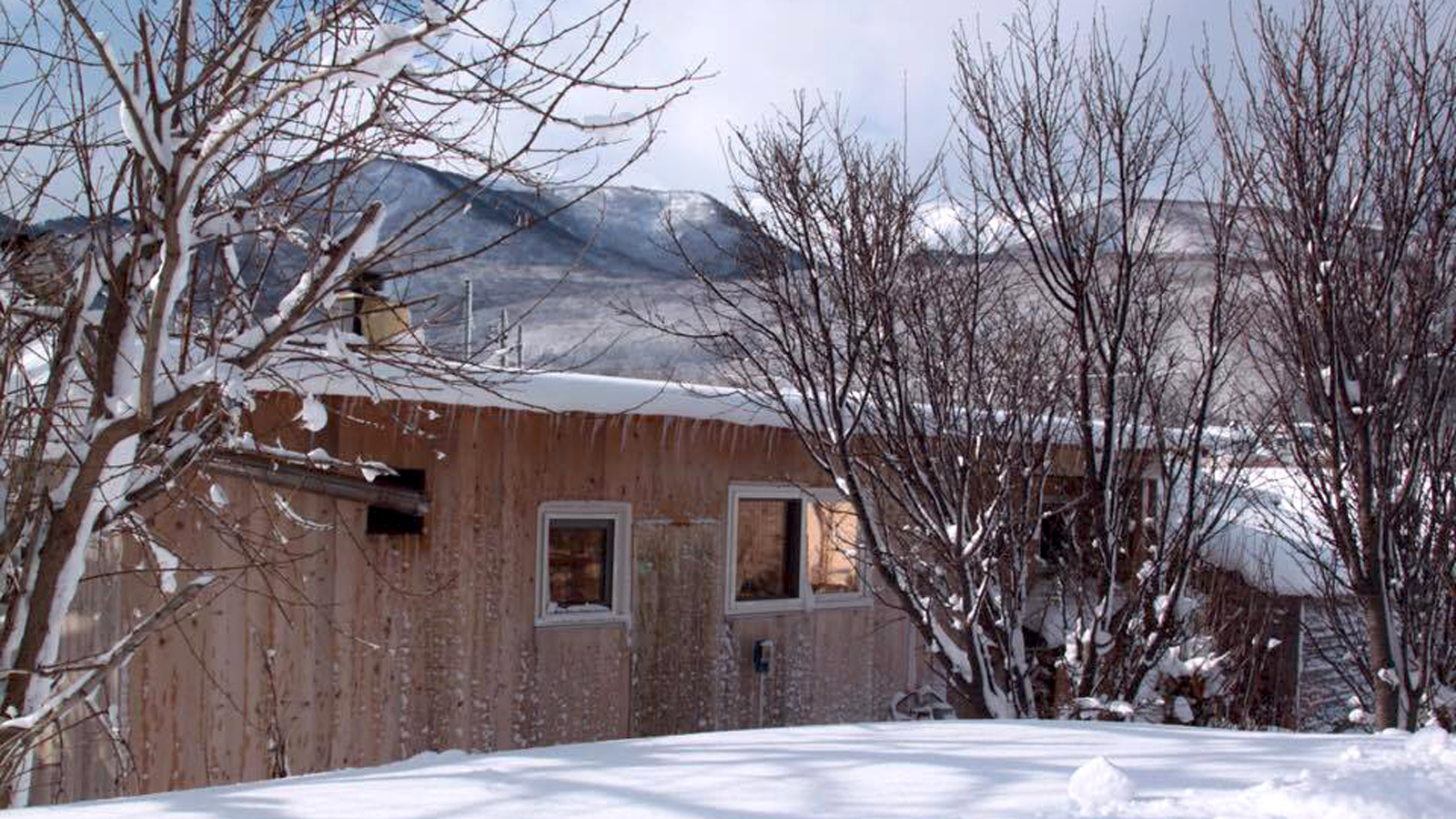 Mr. Shunsuke Yoshizawa says
「I'm not very good at talking about something and writing about it, so I'll show you around Shimamaki」
Hattori: "That's great, I'm really jealous.
Yes. Just like the style of Mr. Hattori and Mr. Yoshizawa, the conversation without any unnecessary extravagance decided the direction of the interview in an instant, and this article became the first experience report-style article for Biastra.
I hope and believe that I will be able to enrich my articles over the years, with the role of conveying the beauty, joy, sorrow, and harshness of the four seasons of Shimamaki in various ways.
We hope that you will stay in touch with this article for a long time to come.
Please take your time and look around when you have time.
[Final update date: July 7, 2017]

Shimamaki Village, Hokkaido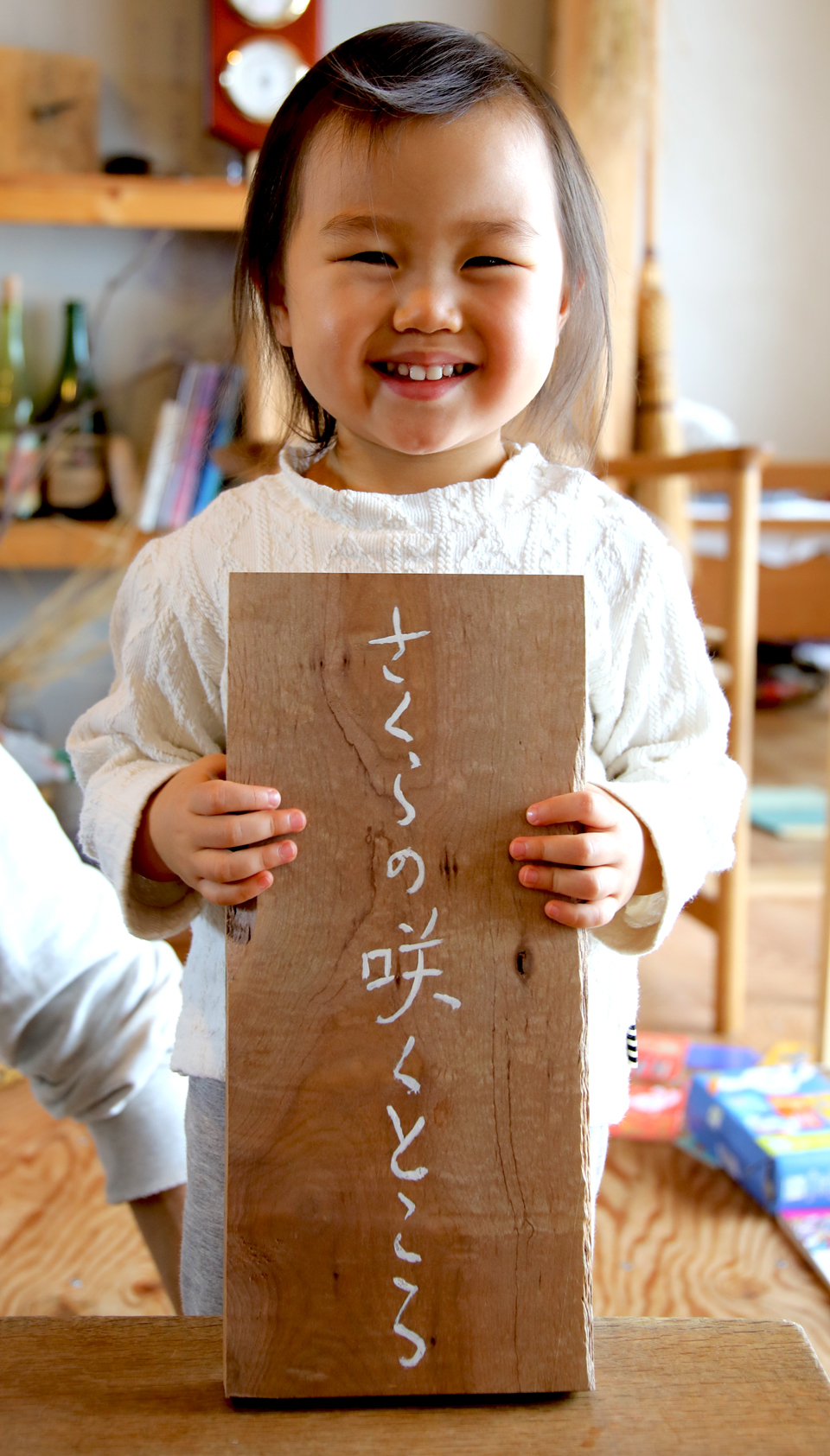 Shimamaki Village in February.
Superb homemade bread
It's the season to warm up with a wood stove. Breakfast is served with homemade bread baked in the wood stove.
The stove is not equipped with an oven, but with a little effort, you can bake bread with a beautiful crust and crispy crust as if it were baked in a stone oven.
The bread is extremely self-sufficient, using spring water from the beech forest, salt rich in minerals handmade from Shimamaki seawater, and homemade yeast made from pesticide-free apricot plums from a neighbor's garden. The flour is a blend of Haruyokoi, Kitano Kaori, and other carefully selected flours from Hokkaido.
He also grows wheat in a naturally cultivated field, and his ambition is to one day bake bread that is 100% self-sufficient.
Shunsuke Yoshizawa's handcrafted tableware, which makes the most of the characteristics of wood, is another aspect of his work as a woodworker. The wooden spoons and forks are safe for children, and the wooden plates make the food more attractive.
Because it is bread that we eat on a daily basis, I could clearly feel that "difference" in Maya bread.
Despite being extremely energetic, the taste and aroma were very refreshing, and there was nothing that stuck in my throat.
I am sure that many visitors will taste this miraculous bread the morning after their arrival in Shimamaki. Then, they will feel that they have come to a different world from the city, and they will be awakened to the way Shimamaki pursues comfort as a human being and its fragrance, and be filled with joy.
Or perhaps it will be a morning of tears at the essential way of life, saying, "This is the truth.
Blessings of Sap
Itaya maple syrup
[smartslider3 slider=5]
Making maple syrup from the sap of the Japanese maple tree.
In March, in a still forest with deep snow, the trees seem to be asleep, but they are already preparing to welcome spring.
In order to spread their leaves and bloom, they suck up water from the earth, which becomes sap.
During the three days we were there, we collected about 1 liter of sap, which was boiled down to about 1/40th of its original volume over a wood stove to remove impurities, resulting in maple syrup.
Of the myriad of trees growing wild, Shunsuke chose only two trees and collected only a small amount of sap.
"As much as you need, as much as you want. I don't want to upset the natural cycle."
This was the answer to the question I had secretly been asking myself: how should I prepare myself to receive the sacred "holy water", how should I allow myself to eat and enjoy it, and how should I be grateful for it?
I'm sure that no amount of writing can convey the taste of this sap like an "experience" can.
One of the many activities to welcome spring is certainly present here, in this sacred time and place.
I strongly hope to return to Shimamaki Village next year to draw holy water and spend the two weeks of maple sap harvesting.
Shimamaki Village in March.
anglerfish stew
[smartslider3 slider=7]
I can hear the boat coming back! Hearing Shunsuke's words, we headed for the fishing port. We were going to stock up on anglerfish.
Here in Shimamaki, instead of going to the fish shop to buy fish, you can go to the fishing port and buy the fish that the fishermen have just taken off the boats.
The fishermen sail out into the dark sea and make the harbor glow with their scales in the early morning.
We can buy fish at the port in the morning, pick vegetables from the fields for lunch, and have a potluck dinner with friends at night. There was a life here that made me realize that our lives are connected to nature.
Ankou-nabe is one of the most sumptuous delicacies that can only be found in a village between the sea and the mountains.
Food, drink, friends, and music.
The food, the drinks, the friends, and the music all ferment and circulate to bring more smiles and happiness.
It doesn't get any better than this.
Somewhere along the way, someone said those words, and they have been refrained ever since.
Next Guest Introduction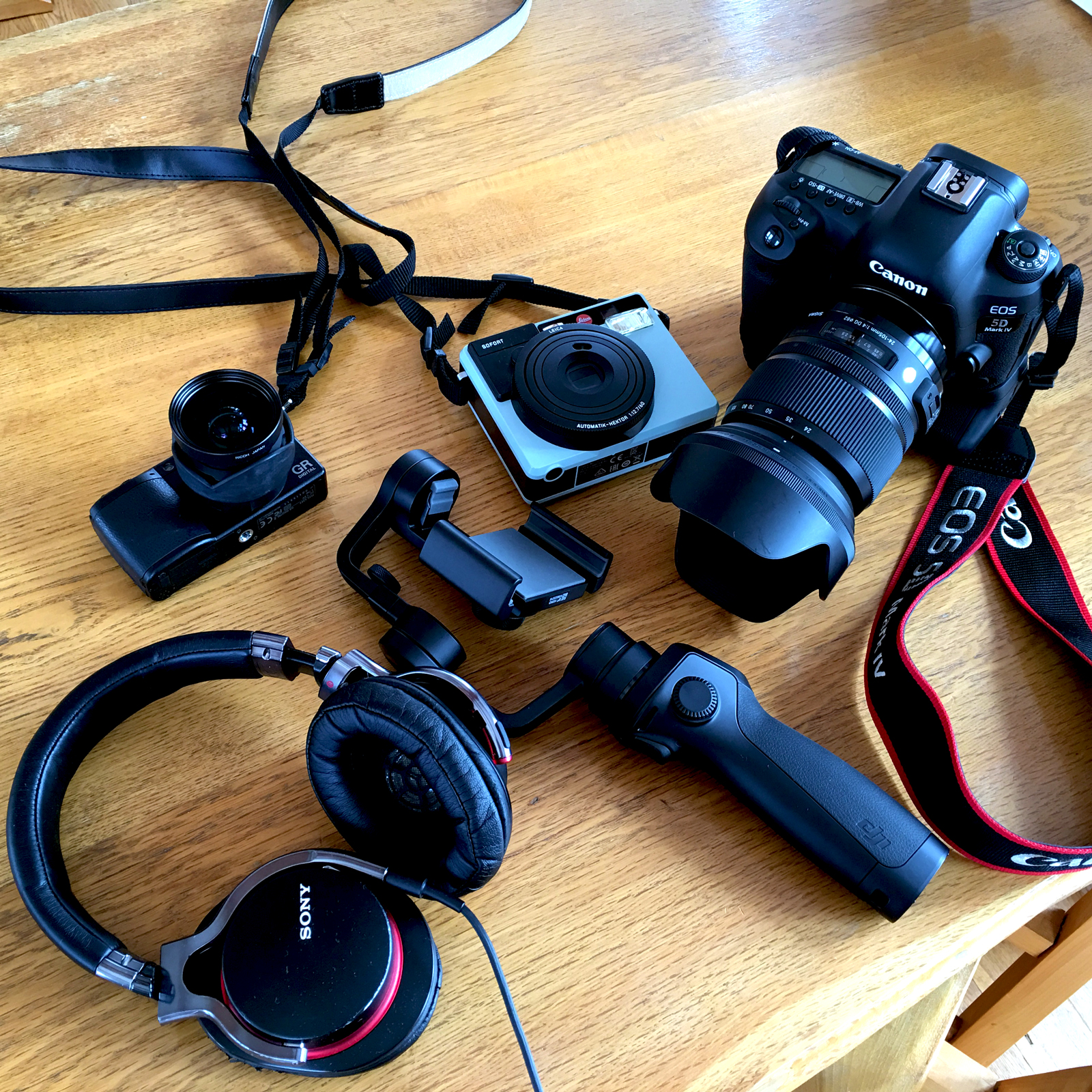 —— Shunsuke, I have a feeling that our Shimamaki coverage will surely go on forever, but please nominate and introduce someone for our Biastra relay interview!
Shunsuke. Yes, of course, there are many people I would like to introduce, and it is very difficult to choose just one… but yes, I would like to introduce Mr. Hatano, who has been a great help to me on a daily basis, to the Biastra relay.
—— What is your relationship with Shunsuke Hatano-san?
Shunsuke. Mr. Hatano is a farmer who has been growing rice without using pesticides for more than 20 years. As the head of the Shimamaki Agricultural Promotion Association, he is also involved in activities to promote Shimamaki.
Mr. Hatano has also given us advice on our rice paddies. In fact, the mountain where we went to get maple syrup from Japanese maple trees is also Hatano-san's mountain.
—— of that wonderful mountain.
Shunsuke. Yes, and I hope that Takeshi will come and talk to me once and for all, because he can properly teach me about Shimamaki from a different angle than my own.
Maya:Yes, yes, yes. I'm sure it's going to be a very long story.
—— Yes, it's the web, so I can write tens of thousands of words (laughs). But to be in a position to teach Shunsuke something is also something amazing. I could still be covering Shimamaki all the time.
Shunsuke. So, Takeshi, when are you coming to Shimamaki again?(笑)
—— I feel that there is no end to this coverage of Shimamaki Village, and I don't even want it to end.
Shunsuke. Come again soon!
—— Thank you very much. I can't think of anything that would make me happier than that one word…. I would like to write an article to introduce the activities of Shimamaki Village and Sakura-no-Blooming Place to a wider audience. Thank you very much for your continued support.
Shunsuke. Yes, thank you, and come back in July for the delicious cherries and sea urchins.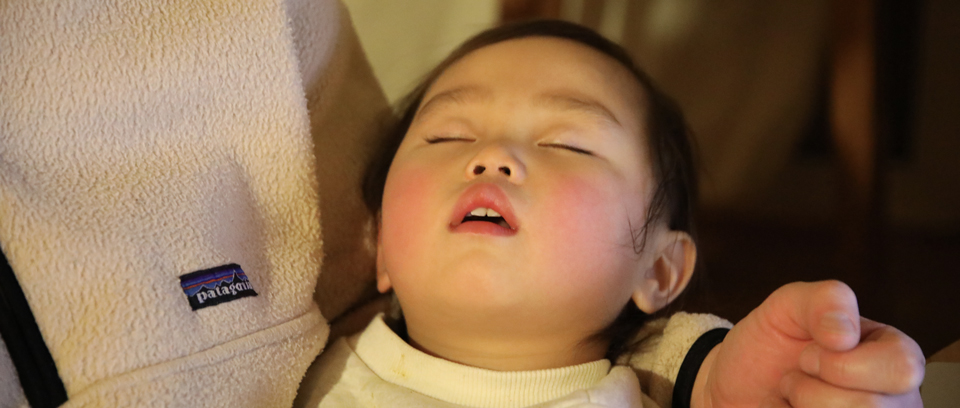 Relay Interview
Go to Episode 7
The baton of the relay interview by Mr. Shunsuke Yoshizawa was passed to Mr. Nobuo Hatano, who has been growing rice without agricultural chemicals for 30 years in Shimamaki Village, Hokkaido.
Expectations were high for Mr. Nobuo Hatano to relay a story that would help us deepen our understanding of Shimamakimura from a different angle.
For those who want to live in the wilderness like Shimamakimura and achieve a high level of self-sufficiency, please take the time to read Mr. Hatano's article as well.
🔗 Episode 7|Nobuo Hatano – Shimamaki Agricultural Revitalization Association
afterword
This relay interview with Shunsuke Yoshizawa will continue in the future.
There is a wide range and scale of things we would like to tell you about in just 12 months of active tees, and over the years and months to come, we hope to accurately pursue and tell you about Shimamaki Village and Shunsuke Yoshizawa's lifestyle.
I'd love to experience it! Please feel free to comment on Shunsuke's fb or visit this site if you would like to experience it.
Thank you very much for reading this long article.
I'll be updating Active Tee again, so please check back.
Producer: Takeshi Hotta
Shunsuke Yoshizawa Related Links
Shimamaki Youth Hostel
〒048-0631 Hokkaido Shimamaki-gun Shimamaki-mura Aza Chihase 21
TEL : 0136-74-5264 FAX:0136-74-5264
🔗 http://www.jyh.or.jp/info.php?jyhno=314
|STAFF
Planning, editing, composition, and production: Takeshi Hotta
Special THX : All STAFFS, & YOU.